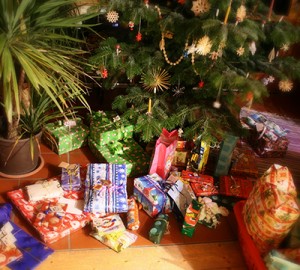 Christmas is around the corner, but many of us are feeling the pressure to get that perfect gift for everyone on our list. It can be easy to overspend and overshop this time of the year — level out the stress by taking these easy tips to make your holiday shopping a snap.
Prioritize the Giftees and Make a Budget
Staying in the spirit of the season doesn't necessarily require everyone on your list be treated like royalty. Look at your overall list and make a realistic budget on what you can afford to spend total. Family and significant others may find themselves at the top of the list, while acquaintances, work colleagues and other loved ones who aren't in your "inner circle" may be better receiving a batch-made DIY gift or inexpensive token along with a warm card.
DIY It
Feeling a little crafty? A lazy weekend afternoon and some simple ingredients or art supplies can create a cheap or free gift that's both touching and impressive. Professional quality results are only a simple instructable away and a little patience. Try melting three cups of sugar in a heavy-bottomed saucepan, then stirring in four tablespoons each of butter and heavy cream, plus a pinch of salt. Stir vigorously, then allow to cool and pour into clean glass jars. Tie with a pretty ribbon to complete your homemade caramel sauce! (To create caramel that will be firm and sliceable after cooling, halve the cream and sugar.) Alternatively, try ModPodging squares of your favorite family photo to glass bathroom tiles (available at Home Depot or other home improvement store), then assembling them in a pretty mosaic for Mom.
Shop the Sales — Online and Off
Before you head to the store to take advantage of widely-advertised deals, hop on the Internet to do a little research. Compare prices (making sure to include shipping) and you may find yourself getting more bang for your buck.
Upgrade When Possible
Having trouble deciding between gifts and not sure where to turn? A surefire bet is always an upgrade of something that the recipient already uses. If they are an avid cocktailer who complains about the wrist strain of juicing a dozen limes at a time, consider a good-quality electric juicer. An on-the-go designer may appreciate a nice leather satchel for their laptop, while the homesick Southerner will surely appreciate a lovely tin of Cane River pecans instead of the local variety.
Consider a White Elephant
In this day and age, everyone has a few good-quality items kicking around their home that simply don't get as much love as they should. So why not organize a White Elephant swap with your loved ones? Everyone gets to take home something new to them, and you can feel good about both the price tag and the reduced waste you've created.
Keeping your business ahead of the curve means developing strong relationships — and lots of them. From clients and customers to business partners, vendors, employees and more, your list of vital players is ever growing and increasingly harder to handle. With professional gifting tips and industry insights, Cane River Pecan Company is here to help.