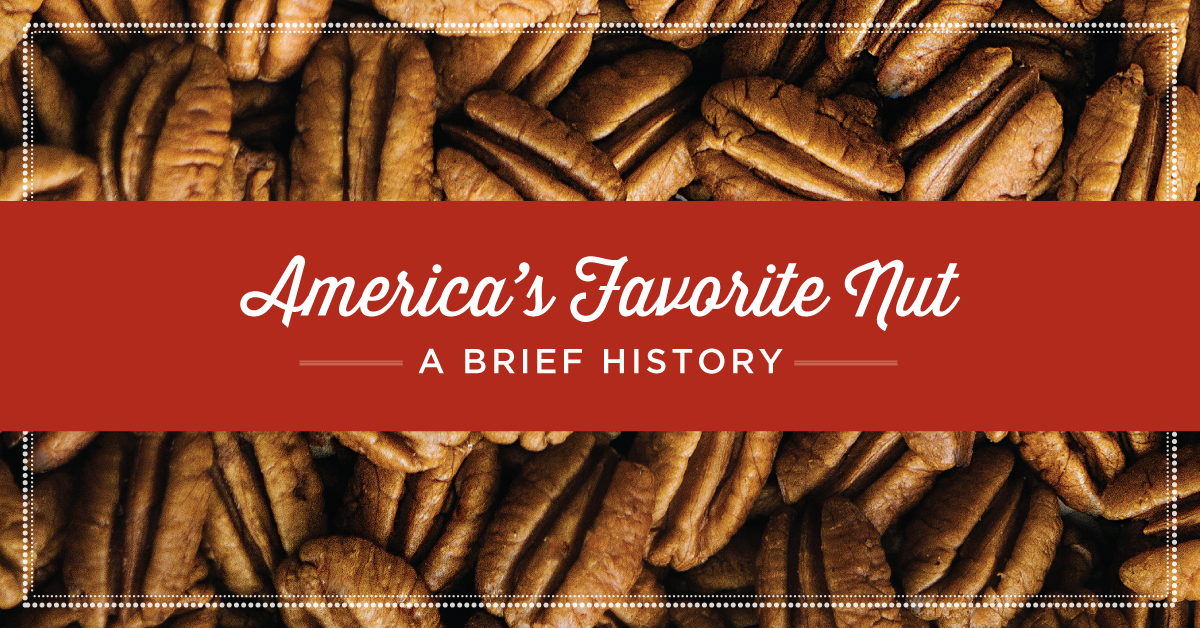 April is here, and it just so happens to be National Pecan Month! To celebrate, we've delved deep into the pecan's backstory, examining its earliest appearances and observing its steady ascent into American and Southern culture. So pull up a chair, grab a palmful of pralines and dive into the rich history of America's favorite, ever-yummy pecan.
In the Beginning
A number of Louisianans were instrumental in making pecans a viable commercial industry in the modern age, but pecan trees began bestowing their nutty bounty millions of years ago. Scientists have dated pollen residue from the family Juglandaceae to at least 60 million years ago. Hickories and pecans, the genus Carya, appeared 34 million years ago. While Carya perished in Europe nearly 2 million years ago, in North America and China, it evolved into 20 taxa and hybrids; all carry nomenclatures of hickory except the pecan, Carya illinoinensis, our native tree unique to North America alone.
Louisiana, Texas and Oklahoma have the densest populations of native pecans, but native areas follow the Mississippi River and tributaries from northern Illinois to southeastern Iowa and south to the Gulf Coast. However, significant isolated native pecan orchards also exist in southwestern Ohio, northern Kentucky, central Alabama, western Texas and Mexico, with the southernmost areas in Zaachila, Oaxaca.
Rich in protein, with a thin shell well worth cracking, pecans were a major food source for Native American populations. In fact, remains found in excavations like Texas' Baker Cave and Louisiana's Copes site prove that ancient peoples were gathering and processing pecans at least as early as 6750 B.C. Spanish expedition accounts describe native populations timing migrations to pecan harvests, making them occasions for regional gatherings, exchanges and bartering. Accounts also detail native peoples storing pecans in leather sacks and earthen pits or stringing nut meats on leather cords for sustenance during leaner months. Curiously, popular modern pecan cultivars include the Pawnee, Cheyenne, Mohawk, Kiowa, Choctaw and Wichita.
The Spanish and the French
As early as 1528, Spaniards were writing of the "great groves of very tall pecan" trees. Members of Hernando de Soto's mid-16th century expedition across the Southeast mentioned them, as did those accompanying Pedro de Mendoza and Ponce De León in the late 17th century.
By the early 1700s, the French were also discovering the merits of the American pecan. Expedition members accompanying Jean-Baptiste Le Moyne de Bienville wrote that of all the nuts, the "best among them" was the pecan. Even earlier, however, French Jesuit missionary Pierre François Xavier de Charlevoix documented La Salle's expeditions in the new world and noted that pecans were "more delicate," possessing "a flavor so fine that the French make 'pralines' (a kind of baked cake composed of almonds) of them as good as those made of almonds."
Colonial America
Once colonists discovered and shared pecans, the nuts drew interest. John Bartram, a Philadelphia botanist, saw several of the nuts and traveled to Pittsburgh — then Fort Pitt — at the height of the French and Indian War in hopes of acquiring pecans. At the fort, Colonel Bouquet gave him seven nuts from Illinois, which he sent to a collector in London.
However, the first real introduction of pecans outside their natural range came in 1799, when New Orleans resident Daniel Clark, Jr., sent a box of pecans to then-Vice President Thomas Jefferson via Philadelphia. In his letter, Clark explained, "It might be worthwhile to cultivate it in Virginia for use and ornament." Jefferson did indeed plant a grove of pecans and documented his "paccan," or "Illinois nut" as Juglans alba in his Notes on Virginia in 1782.
Later, while living in Paris and negotiating economic agreements with France, Jefferson expressly requested "two or three hundred paccan-nuts from the western country," specifying they should come "as fresh as possible." The plants reached port, most likely bound for the Jardin des Plantes in Paris. Only something rare and valuable would have merited the care and expense required for this venture.
Early Cultivation
If you doubt pecans' perceived value at the time, in 1772, William Prince planted 30 nuts at his nursery in Flushing, Long Island. He raised 10 plants, kept two and shipped the other eight to "England at 10 guineas apiece." At the time, one guinea in 1772 was worth 21 shillings, or one pound sterling. According to a historical currency calculator, 10 of 1772's pounds would now translate to about 1,530 pounds in 2016, nearly $2,175 each!
Even George Washington wrote of planting his "25 Mississippi nuts" and later adding "21 Illinois nuts," often interchanging the two monikers and "Poccon" to describe the trees he tended in his botanical garden at Mount Vernon. Likewise, in his "Garden Book," Thomas Jefferson noted planting "200 paccan nuts and seeds of Kentucky coffee" as well as several other smaller plantings over the years.
Meanwhile, Native Americans and other colonists further south and west also cultivated pecans. In 1911, a Texas Department of Agriculture report documented "pecans growing on irrigated lands at Bustamante, 100 miles beyond Laredo, Texas" that the author estimated to be 200 years old. Check a map of native pecans, and many of those isolated pockets of groves still stand.
Scientific Leap
As years passed, many East Coast landowners planted and experimented with methods to encourage trees to consistently bear superior fruit. Pecans are heterozygous; seedlings from the same source often have highly variable nut production traits. Botanists and farmers were aware of the need for budding and grafting to achieve consistently superior yields, but viable pecan grafts remained elusive. In 1822, Abner Landrum documented "budding . . . some dozens of the pecan on the common hickory nut" on his estate in South Carolina's Edgefield County. However, Landrum's main focus became his Pottersville kiln, his newspapers and the Landrum Brickworks.
Again, Louisiana held the key — this time to pecan grafting — in a Creole slave gardener named Antoine. Antoine belonged to Jacques Telesphore Roman on what was then Bon Séjour, now known as Oak Alley. Roman was determined to make the sugar cane plantation between Baton Rouge and New Orleans a commercially rewarding pecan grove. Antoine was about 37 or so in 1846 when he finally crafted the paper-shell pecan from a scion taken from a superior tree on nearby Anita Plantation. Family decline, debt and the Civil War finished the Roman pecan era at the plantation, but at the time of Oak Alley's sale after the war, the nuts from its 126 pecan trees were bringing $50 to $75 per barrel — $1,000 to $1,500 a barrel today.
By 1876, Hubert Bonzano owned Oak Alley and decided to exhibit the nuts at the Centennial Exhibition in Philadelphia as the Centennial variety. By 1882, William Nelson was selling budded and grafted trees, and in 1885, his associate, Richard Frotscher of New Orleans, officially cataloged the Centennial as part of his pecan nursery, making it the first commercially available orchard variety.
The Modern Era
Since that time, graft and bud techniques have been improved, but even now, a 75-percent success rate is considered good when propagating large batches of trees. Meanwhile, the taste for pecans has only grown in whoever tastes them. Perhaps the most recent evidence of what a palatable treasure they are resides in the Chinese market's reaction to them. China now claims nearly a third of the U.S. pecan crop, its nut lovers eating them not as pralines or pies but simply salted or lightly sweetened and eaten as snacks.
Cane River Pecan Company
Following the patterns of millennia, Cane River's corporate clients return again and again for our pecans. They know that nothing else tastes quite as rich, melts in your mouth so sweetly or yields that distinctive crunch. Continue the Louisiana tradition of the pecan in your corporate gifting strategy. It is a uniquely American expression of regard. Our experienced gifting professionals are waiting to help you design the perfect custom tin filled with prime selections of Cane River's finest — that is, Louisiana's finest.
Keeping your business ahead of the curve means developing strong relationships — and lots of them. From clients and customers to business partners, vendors, employees and more, your list of vital players is ever growing and increasingly harder to handle. With professional gifting tips and industry insights, Cane River Pecan Company is here to help.