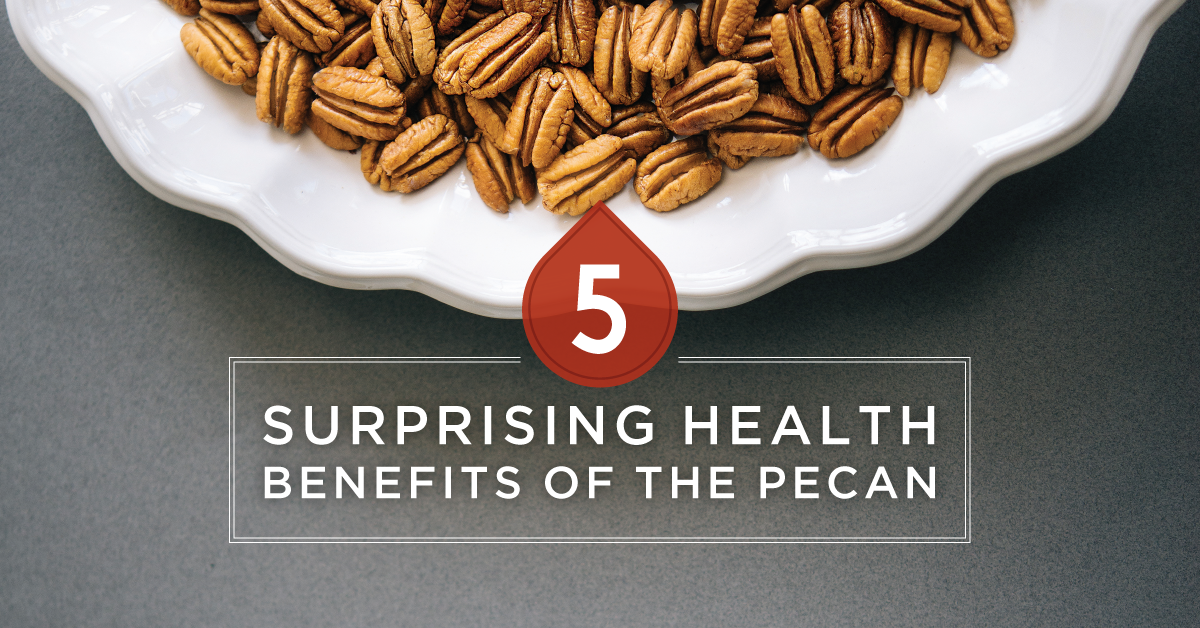 National Pecan Month celebrates the value of the pecan, that delicious foundation in so many of our favorite indulgences. Even without their sweet dressings, pecans are a delectable staple able to keep your mind and body active all day long. Packed with power in such a small package, these tree nuts were lauded as "health capsules" in a study published by the National Institutes of Health. Here are five surprising health benefits that pecans provide.
1. Vitamins and Power
With their wrinkles and creases, natural pecan halves almost resemble a brain—appropriate considering they're jam-packed with nutrients that keep minds working and bodies strong, especially as we age. Every pecan contains nearly 20 different vitamins, notably choline, vitamin E, thiamine, riboflavin, niacin and vitamin B6. Together, these vitamins boost immunity, slow aging, reduce risks for cardiovascular disease and perhaps cancer, and even help prevent cataracts. As for our brains, the vitamins in tree nuts impact brain function and have been found to slow or even prevent cognitive decline.
2. Minerals and Strong Bodies
Calcium, iron, magnesium, phosphorous, potassium, zinc, copper, manganese, selenium, fluoride—there's practically a periodic table packed into this wonderful nut. Calcium, magnesium and potassium protect against osteoporosis, arterial hypertension and insulin resistance, and that's just the start. The minerals in pecans help ensure that bones and teeth remain strong, that the nervous system and muscles—including the heart—function properly, that our bodies are able to heal and that our blood is able to supply nutrients to all parts of our body.
3. Proteins, Amino Acids, Muscles and Metabolism
Pecans are an easy way to ensure you're getting all 10 essential amino acids needed to build muscle and maintain an active metabolism. Our bodies produce 10 of the 20 amino acids needed, but we must consume the 10 essentials through food. Pecans contain all of them. Basically, the more essential amino acids a food contains, the higher the protein quality is and the better your body will be able to make use of the nutrients in it. Those essential amino acids are key to the body's ability to grow as well as maintain and repair its cells, making pecans a high-quality protein.
4. Carbohydrates, Fiber and System Management
Only 8 percent of a pecan's caloric value is found in carbohydrates, and two-thirds of that is fiber. The remaining carb supplies just enough fructose, glucose and sucrose to give pecans their natural sweetness. An entire cup of pecans has only half a gram of starch, so a pecan's entire carb value has worth. Consuming fiber is important for managing blood sugar and cholesterol levels as well as contributing needed roughage to your diet.
5. Fatty Acids and Blood Lipids
Over half the fats found in pecans are monounsaturated while another third are polyunsaturated. Only about 8 percent of the nut's total lipids is in saturated form—and not one drop is trans fat or cholesterol. The fatty acids contained in pecans are beneficial to your entire cardiovascular system. In fact, study participants that ate a pecan-rich diet for just one month had lower blood lipid levels than their non-pecan-eating counterparts. They also had reduced risk for diabetes, hypertension and inflammation.
Snack to Your Health
Intent on doing its part, Cane River Pecan Company donated 500 bags of natural pecan halves to the Cycle Zydeco Festival cyclists, providing a much-needed energy boost on their 185-mile, four-day ride. It's just one example of how our pecans are the perfect food to add to any active lifestyle. They need little space, no preparation or refrigeration, and unlike many snacks, they satisfy both body and mind. Additionally, they're the perfect complement to so many other foods:
Top vegetable, fruit or meat salads with them.

Finely chop them, and encrust your favorite seafood fillets.

Add them to whole-grain breads and baked goods for flavor and crunch.

Incorporate them in trail mix or popcorn.

Use them in savory or sweet dips and sauces.

Make them the crowning topping on casseroles.

Substitute them for chips.

Offer them as dessert.
Cane River Pecan Company has been raising pecans for nearly five decades, and we've become experts in corporate gifting and the art of the pecan. Explore our website full of pecan specialties, and register for our National Pecan Month Giveaway; we're shelling out a year's supply of mammoth pecans—a year's worth of health—and offering a code for 25 percent off our natural pecans. Our experienced gifting specialists can help you choose just the right combination.
Keeping your business ahead of the curve means developing strong relationships — and lots of them. From clients and customers to business partners, vendors, employees and more, your list of vital players is ever growing and increasingly harder to handle. With professional gifting tips and industry insights, Cane River Pecan Company is here to help.