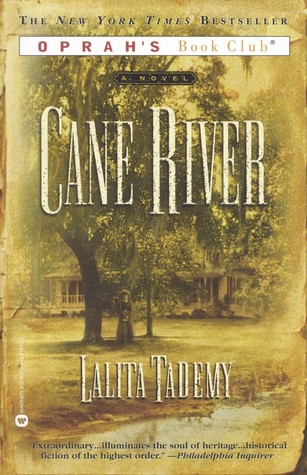 Selected for Oprah's Book Club in 2001, Cane River tells the story of four generations of women born into slavery, spanning the 1830s through the 1930s. These astonishing characters battle injustice and persecution, creating a legacy of hope that resounds to the present day through the narrator's discovery of her ancestors' accomplishments. The reader follows the family's journey as they grapple with the torments of slavery, the harsh realities of the Civil War and the complicated process of emancipation in the turbulent early 20th-century setting.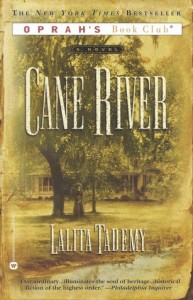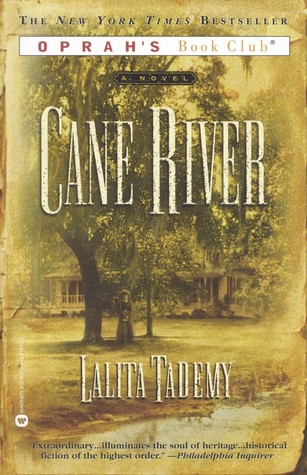 The story begins with author Lalita Tademy's great-great-great-great-grandmother Elisabeth, following the family line to her daughter Suzette, Suzette's daughter Philomene and Philomene's daughter Emily. Amid farmhouses, fields, and a diverse community of free people of color, French-speaking slaves and white residents, these women confront the ties of racism and fight to preserve their integrity and make life for the next generation just a little better than the one before. Making tough choices in the face of almost unimaginable challenges, these women are beautifully-drawn characters that fascinate and inspire the reader.
While the Tademy clan may be the human face of the novel's narrative, the real star of the show is the titular Cane River area of Louisiana, a rural section of northwest Louisiana which has been recently named a National Heritage Area by Congress and the National Park Service. Tademy's scintillating prose describes every aspect of this lush area of the South, sparing no detail when it comes to the minutiae of everyday agricultural life in the 19th century as well as the beautiful natural scenery of this region. With historic plantations, unique Creole architecture and a multicultural heritage that has no equal in the United States, the area lies south of Natchitoches along both sides of the Cane River. In addition to several historic homes and plantations, it also encompasses Cane River Creole National Historical Park, as well as several National Historic Landmarks.
One notable facet of the rich history of this area is the existence of the Cane River Creoles, a socio-ethnic group which came about after planters engaged in relationships with enslaved Africans and American Indians. While both French and Spanish law banned race-mixing in their American territories, the practice was sustained throughout the antebellum period and resulted in a mixed race group of people known as Creoles. Known as the "gens de couleur libres" (free people of color), they were a socially influential and economically successful class in their own right. Their descendants still populate Cane River to this very day, preserving and perpetuating their unique cultural tradition.
One fascinating character who is mentioned in the novel Cane River is Marie Thérèse Coin-Coin, a freed slave who is widely considered to be the originator of Cane River's Creole community. Creating a successful agricultural business with the help of her husband and children, she also founded the first African-American church in the region, St. Augustine Catholic Church. The community that surrounds it is colloquially known as "Isle Breville." Today, the church is the heart of a vibrant and thriving tradition, playing home to parish fairs, historic trail hikes, community plays, candlelight vigils and more.
Another significant feature of this area is its rich natural beauty, which makes Cane River the ideal destination for those looking to explore the outdoors. There are limitless opportunities for campers, hikers and wildlife watchers to see what makes Louisiana the "Sportsman's Paradise." The Kisatchie National Forest boasts more than 6,000 acres of pristine wilderness which are split into six distinct regions across the northern part of the state. From cypress-filled bayous to craggy hills, there is a vista for every kind of traveler.
If you're a birdwatcher or lover of nature, you'll be thrilled at the diverse flora and fauna that is on display in this area. Alligators, mink, otters and wood ducks are just a few of the rare species that you'll see while enjoying the forests and bayous of the Cane River region. For hunters, white-tailed deer, wild turkeys and quail all heavily populate the area, and can be hunted via an easily-obtained license from the local Natchitoches government offices. Birdwatching is another popular attraction: the red cockaded woodpecker, an ultra-rare variety of this common bird, makes its home deep in the pine forests of Louisiana, along with many other birds that are listed on the official Forest Service field guides.
Want to explore the waterways of the area? Kayak or canoe down the Cane River Lake, a bow-shaped body of water that hosts a stunning array of natural scenery. Small motorboats are also allowed in the area given the appropriate permits. There are also fishing areas and waterside campgrounds to be found all around. Just watch out for alligators — these reptiles roam free around the area, and while they generally steer clear of human-populated areas, it is always good to keep an eye out. The Natchitoches National Fish Hatchery raises sport and endangered fish populations, making sure that the abundance of the area is preserved for future generations to enjoy. An aquarium is open to visitors, allowing them to see the products of the hatchery in person — or in scales.
Of course, as with anywhere in Louisiana, the rich culinary tradition permeates nearly every aspect of life in the region. With a mixture of African, French, Spanish and Native American cuisines, you won't find anything like it elsewhere in the world. From traditional Cajun dishes like corn macque choux to the French-Native American-African amalgamation of seafood gumbo, the unique is on display with every bite. Cane River, as mentioned previously, is a major agricultural producer, making fresh top-quality ingredients available to any home cook. Cane River pecans are especially noted for their abundant growing season and clean, pure flavor. Tomatoes, corn, greens and other vegetables are also plentiful in this area.
As well as a rich culinary scene, the Cane River region is also home to cultural festivals and celebrations that span its variety of traditions. One remarkable tradition is the Adai Indian Nation Cultural Center's annual Pow Wow, which brings together Native Americans from across the state to showcase their crafts, dance renditions, music and food. It begins with a grand entry by the representatives of all the tribes of the area, and progresses to traditional drumming and dancing, tours of Adai Indian dwellings, and historic artifact displays. There are also guest visitors every year from Indian tribes around the nation, telling stories and showing off traditions from their own cultures. There are even buffalo roaming around the campground!
Want a little history with your trip to Cane River? Visit some of the many plantations or historic homes that stand throughout the Natchitoches area. Melrose Plantation, the home of the aforementioned Marie Thérèse Coin-Coin, sits on a pristine estate, the crown jewel of which is a perfectly-preserved French Colonial mansion with Greek Revival details. This nearly 200-year-old house is just one of the historic buildings of the estate, alongside a historic book-bindery, ice house and artist's residence. Melrose Plantation is also home to the Clementine Hunter murals, antique large-scale paintings that depict rural life in Louisiana. Artists of all stripes have made this historic building their home, such as Lyle Saxon, a New Orleans author who kept the company of literary  luminaries such as William Faulkner and Sherwood Anderson. Saxon wrote his best-known book, Children of Strangers, while in residence at the plantation. The novel, undoubtedly inspired by the author's time in the region, presents a realistic and sharp-eyed view of life in the Cane River area at the turn of the century.
Finally, if it's time to go home after your journey, rest assured that there are many affordable ways to being a little bit of this area home with you. Pick up some colorful folk art from a local Caddo craftsman, or spook your neighbors with an ethically-sourced preserved alligator head. A small gift bag of Cane River pecans makes the perfect souvenir for the cook in your life who's ready to tackle an authentic Southern sweet treat like rum pralines or pecan pie. Of course, it is also an option to spread the word about this magnificent area with a copy of Lalita Tademy's book of the same name, which is available at many local bookstores and online retailers.
Hopefully, this guide to northern Louisiana has helped pique your interest after reading about the colorful characters that populate it in the book Cane River. While Elisabeth, Suzette, Philomene and Emily may be gone, the rich culture that they embody lives on in the dedicated spirit of thousands of local residents. Visit the area, absorb the unique lifestyle, and go home content in the knowledge that the history and tradition of this area is preserved for future generations to come.
Keeping your business ahead of the curve means developing strong relationships — and lots of them. From clients and customers to business partners, vendors, employees and more, your list of vital players is ever growing and increasingly harder to handle. With professional gifting tips and industry insights, Cane River Pecan Company is here to help.