It always happens. When I tell someone that I own a pecan company, they go into a pecan story. It usually begins with a tree. They go on about the pecan tree in their yard.  They would pick them. They would gather around them. They would cook with them. They would sometimes sell them. The stories are warm, heartfelt, comforting and usually bring them back to their childhood. I see the delight in their eyes, the smile on their face. I can tell they are speaking about something that makes them happy.
So it should be no surprise that working in the pecan industry makes me happy. My company deals primarily with people who are looking to source the very best pecans on the market to make that one comfort dish, special candy or favorite pie. Or I'll work with a large corporate client who raves about the comments and compliments they receive when they gift pecans to their customers. Either way, we are dealing with happy people and that makes what I do really special.
This is our very first blog post. It has been some years in the making – or rather, I should say, we could hold off no longer. Our brand experts told us, "It's time." So I wanted to start with "my pecan story" so our readers will know who they are dealing with here. Our blog name, as you can see, is called "What's Crackin'?." I have to give my cousin Ward credit for the title. He is an aspiring singer/songwriter in Nashville, TN and cleverly came up with the name when asked for an idea. He is witty like that. We liked it because it is somewhat of throwback to my intro into the pecan industry (you will hear more about that in bit) and it is not "all pecans" all of the time. What's Crackin' may veer off the reservation from time to time. We hope to share with you our small, family company products and services, but also talk about the South, southern hospitality, our heritage, our culture and the events that shape our company. There is no endgame. Really we hope to offer a glance into the life of a small business, our struggles, our triumphs and our love of all things pecans.
However, there is a beginning. And really, for me, it began the year I was born: 1969. Literally. That was the year my father and his brother bought pecan orchards along the historic Cane River in Natchitoches, LA. My Great Uncle Jady Henry planted our orchards. His family owned Louisiana's famed Melrose Plantation, known nationally for its massive pecan orchards and artist residency. The plantation got its second round of notoriety when one of its own cotton pickers, Clementine Hunter, rose up to become Louisiana's most famous folk art painter.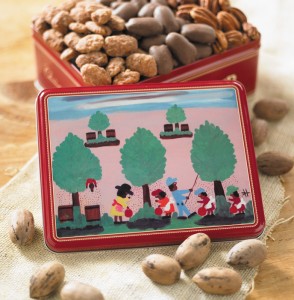 I have no recollection of the first pecan I ever saw or tasted. We (my two brothers and sister) just grew up in pecan orchards. There is not a fall season that goes by that vivid memories of the pecan harvest with my father does not occupy my mind. I can still smell the barn, the musty burlap sacks, diesel fuel for the tractors. I see pecans by the tens of thousands, sacks of pecans pilled to the rafters, hand-pickers lined up to weigh their day's collection and to be paid. I can still hear the "crunch" of dried, fallen pecan leaves under my boots as we ran between the trees. Crunch, crunch, crunch. You can't sneak up on anything in a pecan orchard in the fall. I remember cold mornings, pecan crackers slowly cracking each pecan, one by one, mechanically and my father working the phones with buyers from a dusty desk littered with bills, POs and yield records. It was the life on the farm.
When I was only 9 my father started my two brothers and me in a business endeavor that would last until we all left for college. We owned and operated The Nutcrackers in the garage of my parents' home in New Iberia. The Nutcrackers cracked pecans for people after school and weekends on the fall. It was a legitimate company with duties, responsibilities, customers, bank notes, bills and a board of directors (even if we had our board meetings over peanut butter and jelly sandwiches).
I never really thought I would return home to work in the pecan industry but that is exactly what I did when I decided to leave my professional sports job with the Chicago Bears to return to Louisiana for a chance to be self-employed and grow our company's opportunities. And I have never had a single regret.
Cane River Pecan Company has become Louisiana's premier pecan gifting company. From the onset we focused our efforts on becoming a leader in business-to-business gifting services. It was my mother who really solidified our niche. She was the one who knocked on doors all over Southwest Louisiana to showcase our gourmet pecans. She was able to open accounts with a personable touch, a won't-take-no-for-an-answer attitude and some of the best tasting pecans people had ever had. It was a deadly combination.
Along the way my family has worked in every aspect of the pecan industry. But what we are really proud of is our ability to continue in an industry that is celebrated throughout the South. I am a really proud Southerner and I love that pecans are adored here in the South. More than ever, I am encouraged that the South is enjoying much-deserved recognition and celebration for its food and lifestyle contributions. People around the country, I feel, are just beginning to learn what we have all known for a very long time – just how special our lives are, how close our families are and how seriously we take our food (and drink). I am proud to tell my pecan story and be a part of the movement.
So welcome, all of you pecan lovers. We hope that you will decide to keep up and hear about What's Crackin' from time to time.
Cheers,
Jady Regard
CNO
Cane River Pecan Company
Keeping your business ahead of the curve means developing strong relationships — and lots of them. From clients and customers to business partners, vendors, employees and more, your list of vital players is ever growing and increasingly harder to handle. With professional gifting tips and industry insights, Cane River Pecan Company is here to help.